About Allynn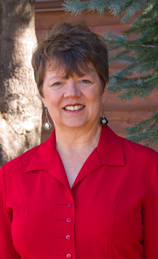 Allynn writes because, quite simply, she has to write and she promised some very persistent characters she would write their stories. Telling stories began quite young with "westerns" based on imaginative play with her collection of plastic horses, most of which she still has. Nonfiction efforts span from animals and science to history and crafts, whatever intrigues her curiosity and desire for knowledge. She has a BA in English with secondary teacher certification. One of eight substitute teachers for a small rural school district where she used her varied background to substitute for all grade levels, K-12, and in subject areas from Art, English, Chemistry, Spanish, French, and even as the district librarian. That was her favorite assignment because she got to read all day long!
Publishing credits include nonfiction articles on pronghorn, nutrition, recipes, crafts in various publications including Falcon Magazine for Kids and Stories for Children. Articles on certain aspects of the folk dances of the United States have appeared in national and international periodicals such as American Square Dance (formerly Sets in Order), Square Dancing Today, the Lloyd Shaw Foundation's American Dance Circle and Callerlab's Partner Handbook. For more than thirty years Allynn has written monthly newsletters for a regional square bulletin. Essays and commentaries such as Computers, Bread, and Tents, and Just Kill the Puppy! offer a different side of Allynn.
Allynn works closely with professional editors, proofreaders and designers to produce high quality books, stories, and articles. We will soon be offering merchandise such as mugs, t-shirts, and sleep shirts with designs you will want to wear or have on your desk to hold that special cup of Melli's tea (read about the connection between Melli's tea and the cinnamon orange tea available from Awful Annie's restaurant in California HERE).
When not writing Allynn assists her husband and dance partner, Bob, in the teaching and participating in square dance events up to six evenings a week and co-directs a historical dance performance team, The Colorado Dancers. As a couple they are members of Callerlab (Bob is on the Board of Governors), Roundalab, the Denver Area Callers & Cuers Association and the Lloyd Shaw Foundation (both have served numerous terms on the Board of Directors over the past twenty-seven years). Allynn also participates in big game hunting with her extended family and camouflage/blaze orange attired friends and is frequently able to fill the freezer with high grade lean meat.
The mother of three grown daughters, Allynn resides in Centennial, Colorado with her heart's desire, Bob.